Interested in some of the Best Luxury Kitchens of 2023? Here we give a brief summary of some of the most luxurious German kitchen styles on offer during 2023 from our Systemat, Concept 130, Next 125 and Schuller brands of German made kitchens.
A Dark Luxury Kitchen – Systemat AV 7030 Black Star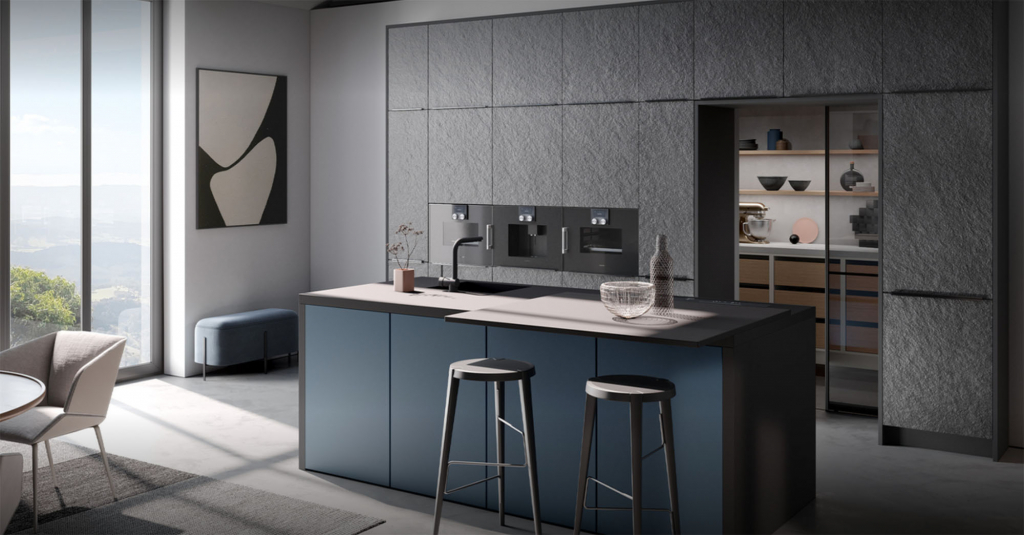 The stone veneers of Systemat Dark Star certainly fit the bill when it comes to earthly luxury and yet this simple (on first glance) design hides a secret. On first glance you notice the functional island, the stone texture of the Systemat Dark Star wall and the black appliances set within.
above: But then you notice a change in perspective and a dash of colour from the hidden larder behind the stone wall.
below: Behind the darkened glass door lies this cavernous larder room housing an out of sight functional workspace and plenty of storage with a luxurious wine cooler front and centre, visible through the glass access door.
This Systemat kitchens style Dark Star from Hacker Kitchens is certainly a 'luxury' focused style of German kitchen but with the right design and the right bespoke touches you can redefine what 'luxury' is with the likes of this hidden larder.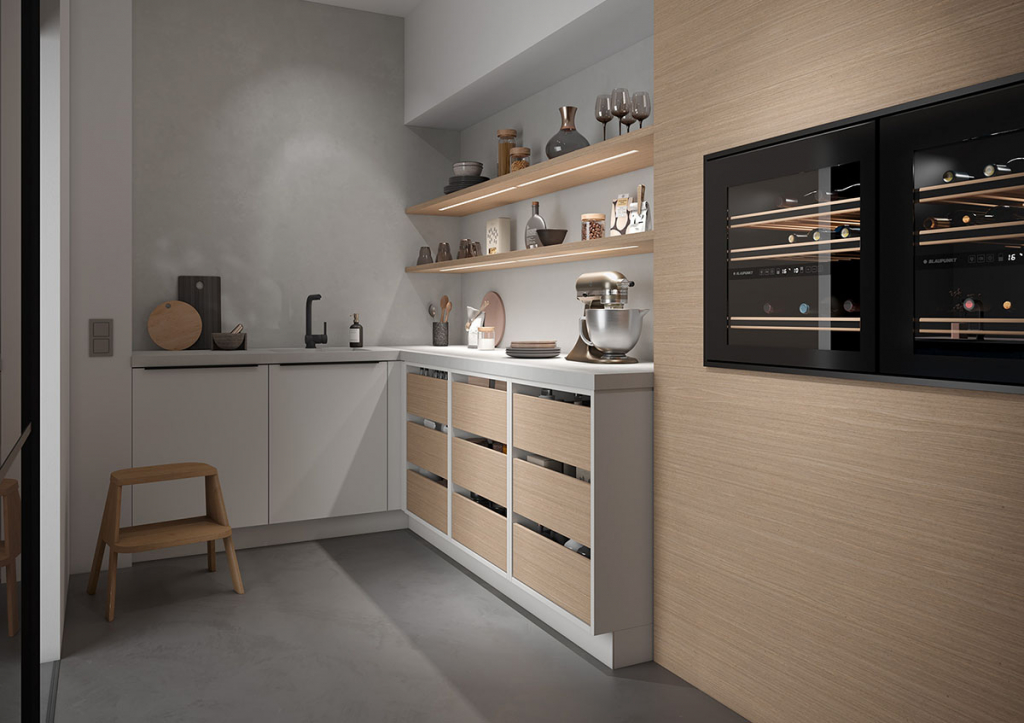 A Wooden Luxury Kitchen – Concept 130 Bali Walnut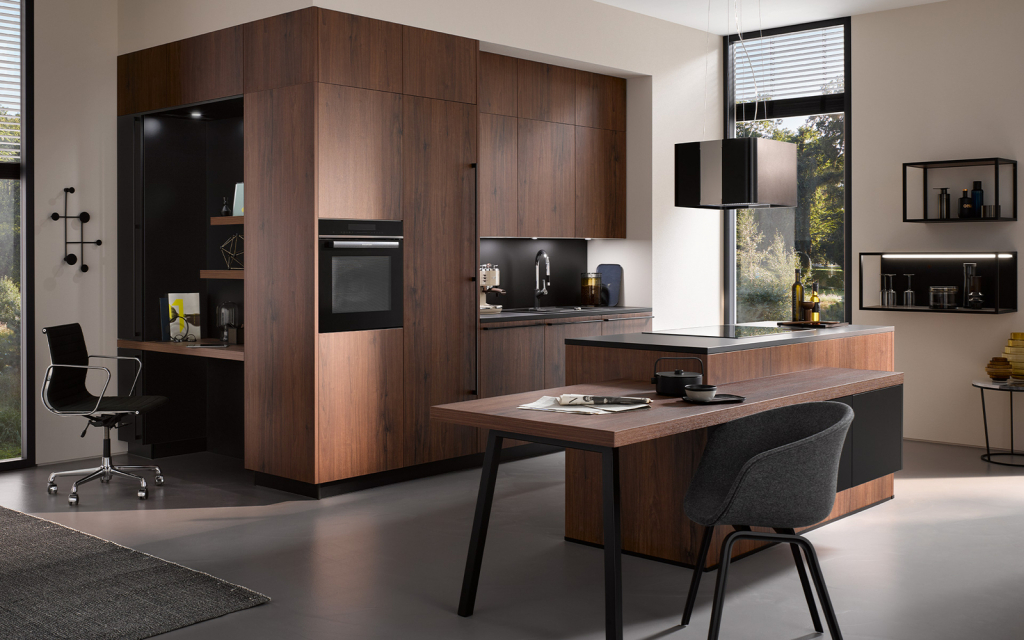 With a wealth of clever storage solutions, mixed heights, integrated mixed use and the latest kitchen design ergonomics at play here, in creating the perfect luxury kitchen for contemporary urban living, you would be forgiven for overlooking the luxurious wood finish achieved with this Concept 130 Bali Walnut veneer from Hacker Kitchens.
Walnut has long been the go to material for sophistication and walnut has seen plenty of use from the boardroom to the luxury kitchen over the years and it is easy to see why this combination of Bali Walnut and Ultra Matt Laser Soft Black offers an outstanding example of a confident and luxurious design where cooking, living and working all seamlessly integrate in one space.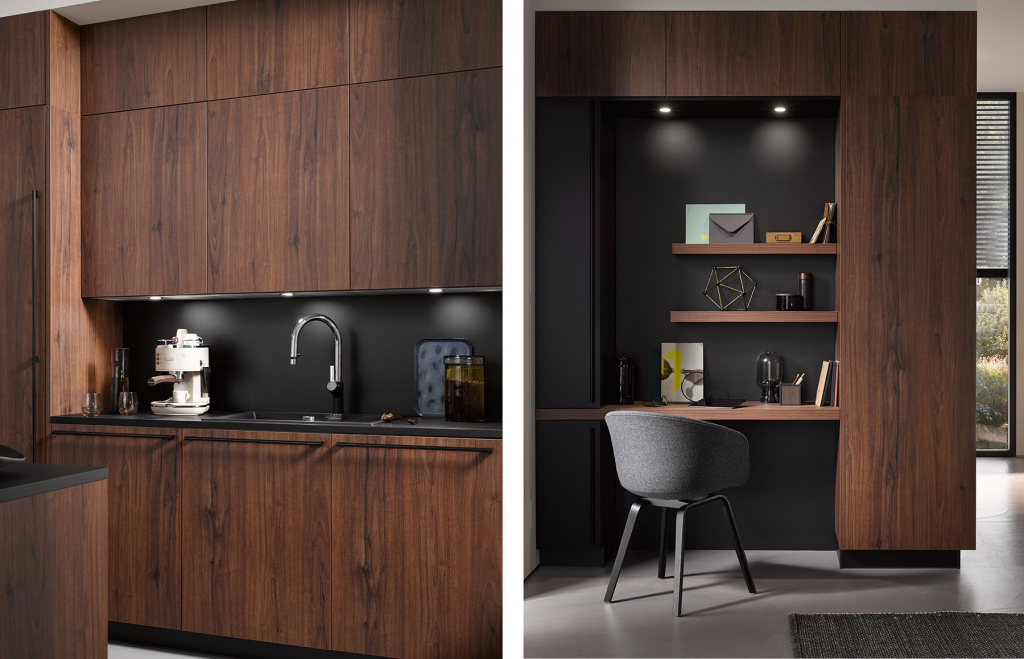 A Chef Focused Luxury Kitchen – Next125 NX510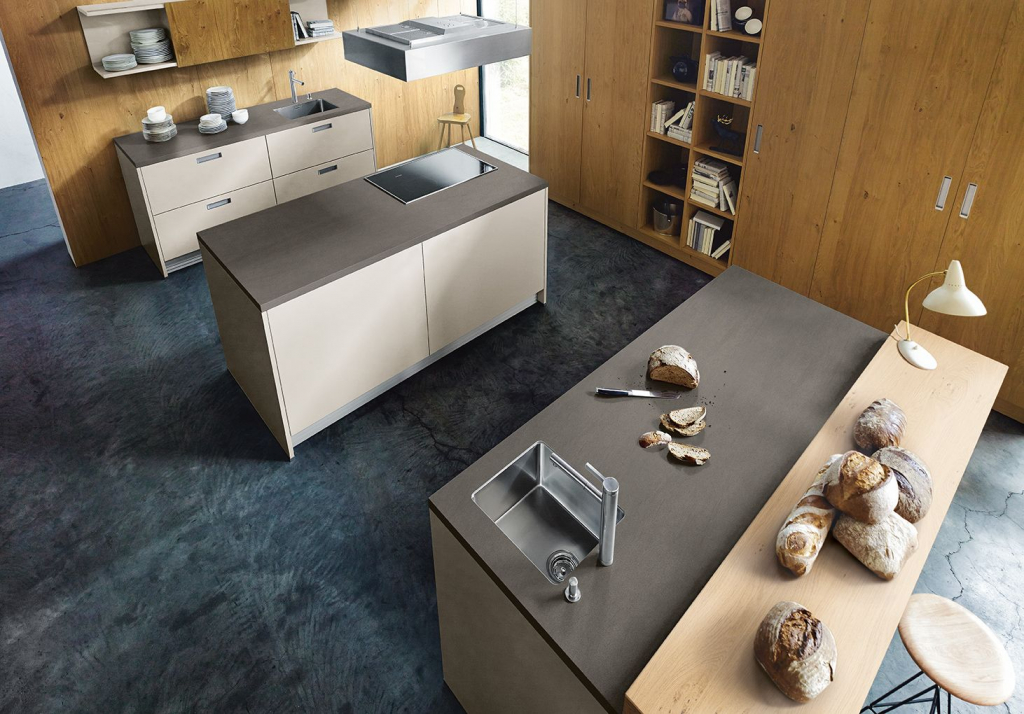 "Luxury Kitchens" is by nature a subjective and personal term. For some, luxury can only be defined with the use of rare elements. For others, luxury can be defined as being the 'best in class'.
For German kitchens from the likes of Next 125, Schuller and Hacker, luxury can be derived from many aspects of a modern kitchen and this example, using the NX510 style from Next 125 Kitchens in Sand Grey 'luxury' can be described in being a kitchen for the budding chef in all of us.
With a clear focus on usability, this kitchen design features separate islands or rather, separate 'workstations' where chef can have multiple dishes being prepared simultaneously and without compromise.
Whilst in this design the end workstations are focused on prep and the middle focused on cooking, the concept explored here can be expanded upon. Dependant upon the available floorspace, the workstations can be enlarged to accommodate a wider scope of food prep and cooking appliances (e.g. a wok station and teppanyaki grill) and the far wall can be better utilised to house appliances that enhances each workstation to its fullest potential.
A Warm and Modern Luxury Kitchen – Schuller Elba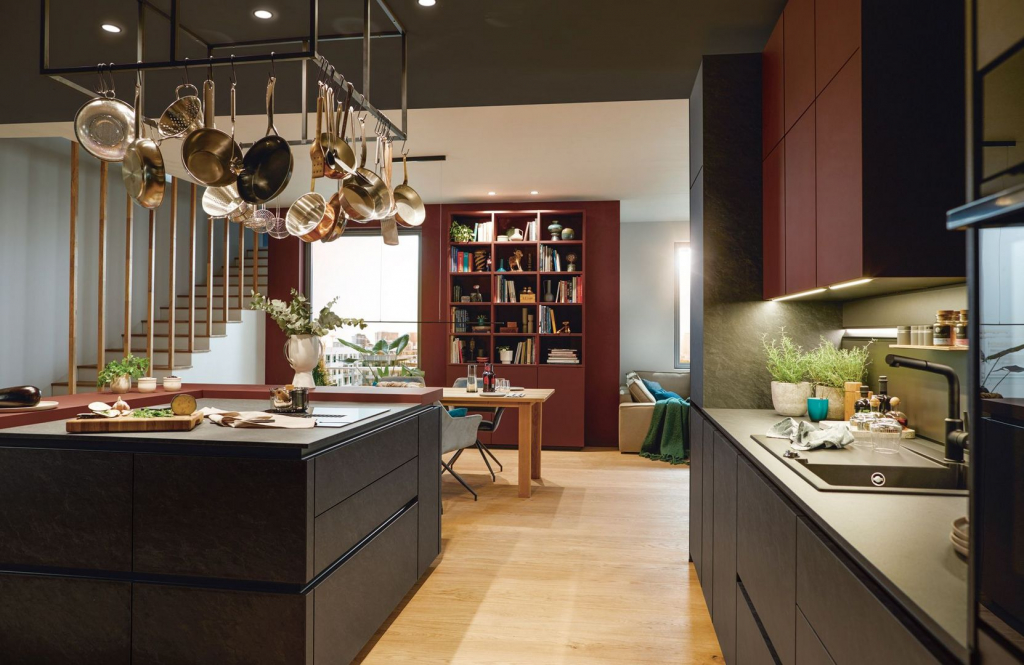 For those whom want to enjoy life at the highest level they rightly impose rigorous requirements on their ambience to achieve the right balance of aesthetics and ergonomics and this kitchen meets those requirements in all respects.
From the contrasting earthy Alvaro Slate door fronts and Indian Red from our Schuller Kitchens brand this warm and luxurious kitchen is homely and exudes relaxation.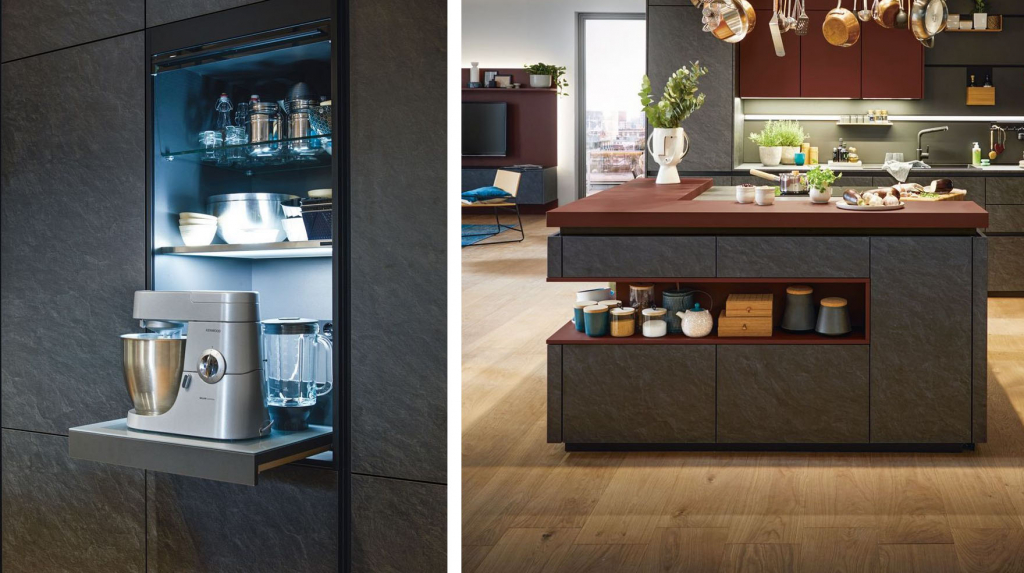 With 25 years of creating luxury kitchens and having forged longstanding industry relationships with leading German furniture manufacturers, every kitchen from German Kitchens London is unique to each of our clients requirements and preferences.
If you would like to Order a Brochure, Learn More about our kitchens or obtain a Bespoke 3D Visual Design please get in touch via our Contact page.